Scientific Name: Mandevilla
Height: 3 to 20 ft (91 to 609 cm)
Width: 1 to 3 ft (30 to 91 cm)
Spacing: 3 to 6 ft (91 to 150 cm)
Sun: Full to partial
Bloom Time: Late spring through early Fall
Water: When first 2-3 inches are dry
Soil Type: Rich, loose, moist soil, but never damp
Soil pH: 6.6 to 7.8
Zones: 4 – 11 patio/ 8 – 11 outdoors
Uses/Styles: Containers, trellis', ground cover
Flower Colors: Red, pink, yellow and whites
Attracts: Hummingbirds, butterflies, and pollinator bees, which is highly important for our environment!
Special Features: Deer and rabbit resistant, extremely long bloom time, incredibly large trumpet shaped flowers
Mandevilla's were first discovered in the mid-1800s and named after the British diplomat and gardener Henry Mandeville. They thrive in tropical and subtropical locations but given the right conditions, they can do fairly well indoors. They are a nice addition to the garden or indoor jungle. If you choose the garden (and your zone fits in the year round schedule for them) then you have the option to either have a mounding or trellis climbing variety. If you choose indoors, consider the amount of space you have. Mounding will spread outward, whereas climbing generally goes upward. Most people tend to choose the climbing route as you can use 3M hooks to hang the vines up the wall.
Fertilize once in the spring and then once every two weeks during the summer. This will help ensure a large, lush, and bloom filled vine or ground cover. A typical 20-20-20 fertilizer can be used but if you wish to have more blooms, add in a fertilizer that is high in phosphorus .
Though mandevillas are stunning and an eye-catcher, they do have their problems. There are several kinds of pests they attract, such as:
Mealybugs
Scale
Spider Mites
and Whiteflies
Do not fret. There are ways to treat and potentially prevent further infestations. Mealybugs, spider mites, and whiteflies can be sprayed regularly with insecticidal soap. Remember to read the products labels. When it comes to scale, depending on the severity of the infestation, neem oil can work wonders. In severe cases (most of the plant is infested), it is best to bury or burn the plant. It isn't something I like doing but sometimes its better to let go instead of let the plant suffer any longer.
There are some diseases to look out for too:
Botrytis Blight
Crown Galls
Fusarium Rot
Leaf Spots
and Southern Wilt (Southern Blight)
Botrytis Blight and Leaf Spots can be treated with neem oil. Crown Galls and Southern Wilt has no cure so the effected plants must be destroyed. With Fusarium Rot, once the symptoms start showing drench the plant(s) with a fungicide that contains one of these ingredients: propiconazole, myclobutanil or triadimefon.
BUT with those in mind, there are some positives to having mandevilla in your garden. They are both deer and rabbit resistant. They love heat and humidity, so the warmer the climate you are in, the healthier and happier it will be. Some varieties have a strong fragrance which is a nice addition. If the plant becomes too large, they can be pruned back to a desired height and width.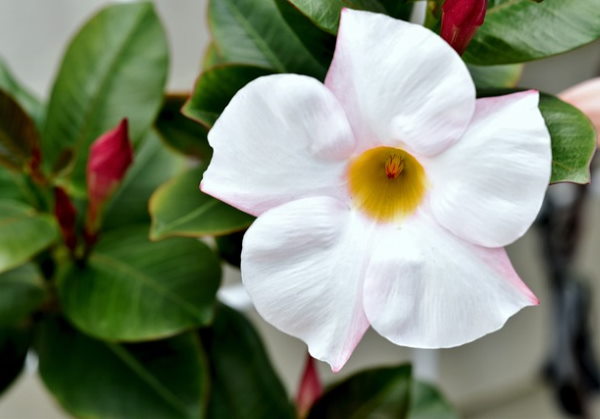 Plant mandevilla's with other plants that bring in hummingbirds, butterflies, and pollinator bees. Suggested companion plants:
Double Impatiens and Impatiens
Coleus
Tropical Hibiscus
Lantana
Sweet alyssum
Verbena