Scientific Name: Pulmonaria
Exposure: Partial, at least 4/5 hours
Soil Type: Rich, moist soil, can handle moisture but not soaking, and very tolerate of clay soil
Soil pH: Neutral to alkaline soil
Fertilize: Once in spring, such as 10-10-10
Height: 6-16 inches (15-41cm)
Width: 12-24 inches (30-61cm)
Spacing: 18-24 inches (46-61cm) *This depends on if you want a clean, landscaped look or Victorian, woodland look*
Hardiness: 2-8 (depending on variety/hardiness)
Bloom Time: Spring
Flower Colors: Blues, purples, whites, and pinks
Special Features: Perennial, semi-evergreen, Deer and Rabbit resistant, low maintenance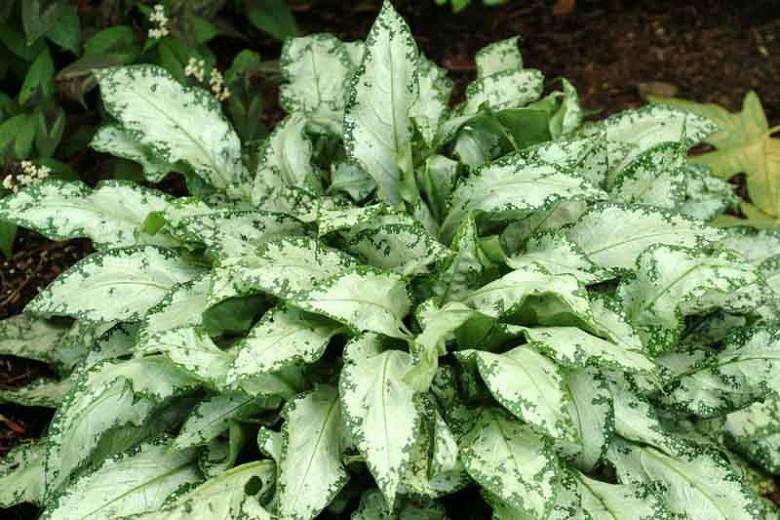 Pulmonaria is a deer and rabbit resistant herbaceous, semi-evergreen perennial that works well in partial sunny areas. Whether you place them under a large tree or in a woodland area, they prefer rich, moist soil that keeps it moisture but isn't soaking wet. They can tolerate clay soil so hurray for those who have strictly clay soil! Do keep in mind that during dry spells, make sure to keep the soil moist. On 85F+ degree weather, water twice if possible. Dry spells can cause damage to the leaves and make them brown and crispy. When handling lungwort, wear gloves to touch the leaves due to having hair-like needles all over. They can become stuck in your skin and cause pain and irritation.
Garden Uses
Banks and Slopes
Beds
Borders
Edging
or Ground Covers
Garden Styles
City and Courtyard
Coast Gardens
Rock Gardens
Cottage Gardens
or Prairie and Meadow Gardens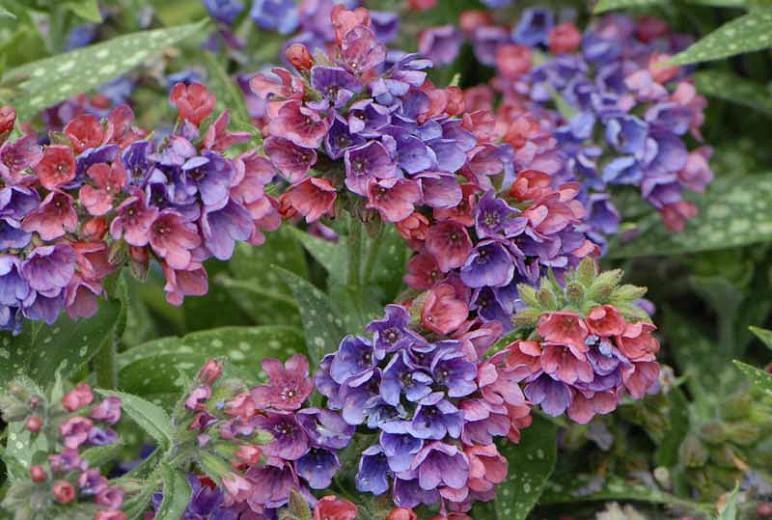 Though they are fairly versatile and hardy, there is a possibility of powdery mildew and slug damage. To prevent powdery mildew, which has a white/grey powdery appearance, spray the plant in the early spring to get ahead of the game. If you have it available near you, find a sulfur-containing organic fungicide to help both the prevention and treatment for current infections. Whenever you notice the leaves and/or stems getting infected, start trimming off those pieces and immediately throw it into the trash. If you throw it into a fire pit or compost pile, there is a change of the spores spreading into the air and infecting other plants.
Don't let those two issues keep you from trying Pulmonaria out. Even after they have bloomed, they continue to show off their vibrant and broad leaves. In some (warmer) areas they will keep there foliage even during the winter. The bell-shaped flowers do attract hummingbirds which is major plus in my book! Anything for the pollinators. Below are some companion plants:
Hostas
Ferns
Bleeding Hearts
Ornamental grasses like Carex and Hanoke
Foam Flowers
Hellebores (Lenten Rose)
and more!